Coincidental matters
Before I begin the main course of this final entry, I want to share a story that was published in the August 1 print edition of the Washington Post's Health and Science section. The thrust of the story deals with the announcement by Ryan Zinke, the current Secretary of the Interior, to "dramatically scale down" the 1.35 million acres set aside in the waning days of the Obama administration to create the Bears Ears National Monument. The first two sentences read,
"The route to Newspaper Rock — so named because it's carved with ancient petroglyphs — from the tiny city of Monticello, Utah, follows a narrow two-lane road through a breathtaking landscape.

It's breathtaking partly because of the way the land craters into canyons on stretches of State Road 211, causing uninitiated drivers to grip the steering wheel. Soon the earth rises into mountains that seem to glow red under the sun. On one short stretch, the mountains divide, giving way to the road."
The story is relatively short and has a lovely minute and a half video of other parts of the monument. You can read it here and if you're interested in a more in depth look at the Trump administration's proposals, my suggested starting point is this story in the Salt Lake Tribune. (The coincidence, for those who didn't read the previous entry, is my decision not to visit Newspaper Rock.)
My final adventures
This isn't the first time I've suggested you consult Google maps (or your other map program of choice or even your preferred paper map) for a place I've visited. This time, your search term should be Blanding, Utah or, better yet, San Juan County, Utah. If you're using the computer, scroll out to see the entire state. With that view, you might wonder why I'd choose to stay there. Let me save you the trouble of taking that first step.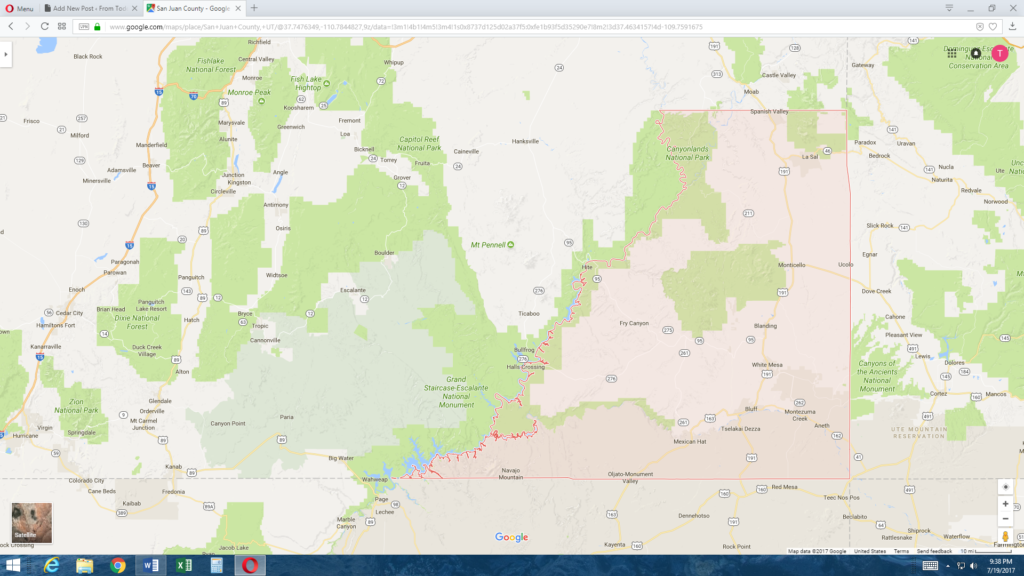 Not that this has anything to do with my reason for staying there, but in fact, Blanding would be an excellent place to stay if you were interested in taking day trips to a remarkable collection of nearby locales. Here's a list within Utah's largest county by area (the Bears Ears National Monument as currently designatedwould claim nearly 27 percent of the county's 7,820 square miles):
Manti-La Sal National Forest – 32 miles
Natural Bridges National Monument – 40 miles
         Newspaper Rock State Historical Monument – 47 miles
Canyonlands National Park Needles District – 67 miles
Oljato-Monument Valley – 70 Miles
Canyonlands National Park Island District – 104 miles
Dead Horse Point State Park – 104 miles
Leave the county by crossing into Grand County to the north or the state of New Mexico to the East and you can add:
Canyons of the Ancients National Monument – 50 miles
Four Corners National Monument – 70 miles
Arches National Park – 80 miles
(And that big green area just to the north and west of Blanding on the map image above is the eerily named Dark Canyon Wilderness.) So that seems like a lot within 105 miles. (Stretch out to 125 miles and you can add Canyon de Chelly to the list.)
Although I didn't make the relatively short but quite vertical hike,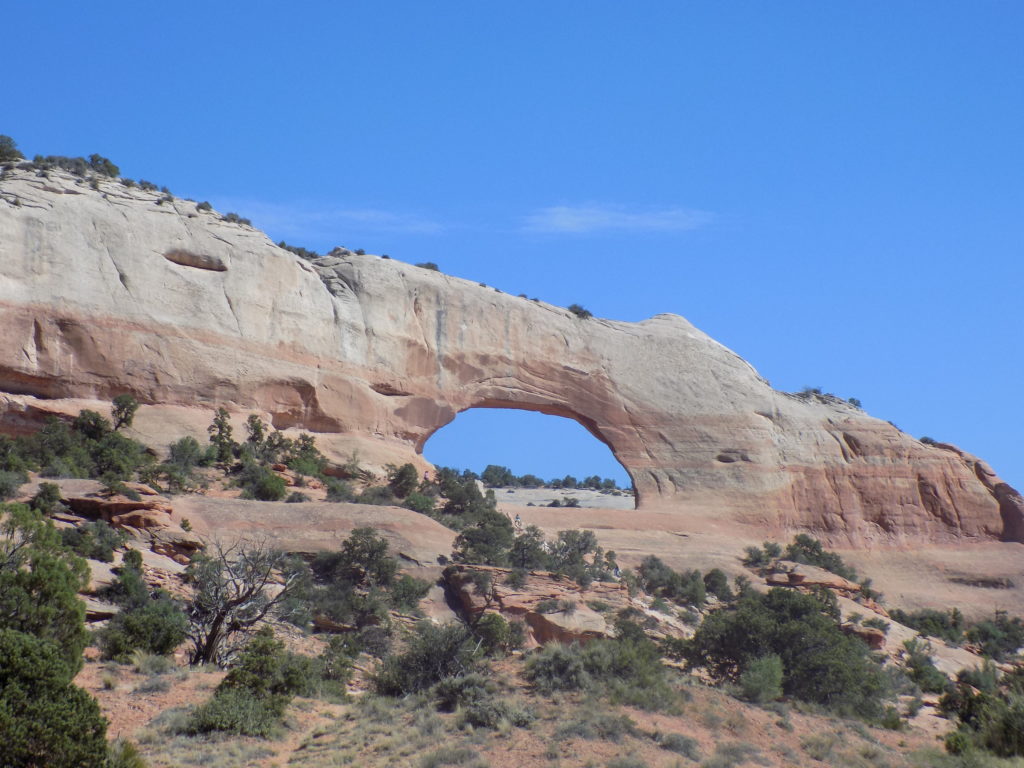 I stopped to take a photo of Wilson Arch 25 or 30 miles south along the drive on U.S. 191 from Arches to Blanding. It's an impressive natural sandstone arch that's 46 feet high and spans 91 feet and is one more possible stop within 50 miles or so of the town.
But back to Blanding. In point of fact, I hope your first reaction when I mentioned I'd be staying in Blanding was, at the very least, "Where have I heard of that before?" Because, in fact, (although it won't be on the final exam) in discussing the history of Monument Valley I noted that  Blanding is the place where the final papers were signed ceding control of the valley to the Navajo in 1933. (Now your reaction should be, "Oh, that's where I've heard of it.")
I chose to stay in San Juan County's most populous city (population 3,375 – nearly a quarter of the county's residents) for a few reasons. First, I wanted to find a place close enough to Tucson that I could comfortably on Sunday but not so far from the places I'd expected to visit on Saturday that I'd face a long drive at the end of a possibly tiring day and still arrive, as is my preference, with at least some daylight remaining. Next, I knew from its website that Stone Lizard Lodging was locally owned and operated and that, as I hope you've learned, is my preference. So Blanding fit the bill on all counts.
Another point in Blanding's favor was my belief that its location left me enough flexibility in time and distance that I could plausibly detour to at least one of three places I thought I might want to visit on my Sunday drive back to Tucson.
But there was still more about Blanding that influenced my choice to stay there. First, in my list of places to visit above, I didn't include Edge of the Cedars State Park which is just outside the roughly two square miles of the city limits. The park earned its name because it occupies a natural boundary between the forest and desert. Unlike Dead Horse Point, which is a site for hiking and camping, this park is an archaeological site and museum occupying the grounds of an Ancestral Puebloan village. Its museum houses a large collection of Ancestral Puebloan pottery and relics.
Finally, there's Blanding's Dinosaur Museum on the opposite side of town. The museum, run by spousal paleontologists Stephen and Sylvia Czerkas, is known for its focus on the relationship between dinosaurs and birds. In fact, a contributor to Roadside America described it this way, "Its topsy-turvy premise is that dinosaurs were not feathered reptiles that evolved into birds; they were giant feathered birds that lost the ability to fly."
Now that I've finished my Chamber of Commerce pitch for Blanding, I'll tell you that I visited neither of these places because I arrived Saturday evening and both are closed on Sunday. On the other hand, because I thought it might be a place you'd typically overlook it's one I think you should consider visiting if you ever plan a trip to that area. (I will add that if you do visit and stay at Stone Lizard Lodging, you should bring your own tea.)
Too soon for some history about Tucson?
In my first post about this trip, I wrote a bit of a cautionary travel tale based, in part, on my experiences on this last full travel day. To remind you, I suggested you have a paper map to supplement your reliance on a GPS and that, although you might be driving on numbered U.S. routes, you should be prepared to drive scores of miles on two lane roads with little or no traffic and to face long stretches of the drive with no place to stop for gas, food or a toilet.
You might also recall that I wrote, "My plan was to drive from Blanding to Tucson with a stop in Sedona for lunch." What I omitted revealing at that point was that I settled on this plan Sunday morning only after learning that both the park and the museum were closed and deciding against the other alternatives – going east to Four Corners or west to Antelope Canyon – I'd actively considered.
As we set out together on this drive, it strikes me that it's just going to be a long haul of about 300 miles and nearly five hours to Sedona with my only stop at the first gas station I reached and nothing in the way of photos to break the monotony. To pass the time, I'll share some of the history I learned about Tucson that I haven't yet reported. You can read it or skip ahead if you prefer.
What's in a name
Describing my drive between Tucson and Organ Pipe National Monument, I mentioned passing through the Tohono O'odham Nation. It's likely that Tucson's name is linguistically derived from their native tongue.  As you drive around the city, this mountain, with its distinguishing 'A' will periodically pop into view. (The 'A' was originally placed there after a 7-6 win by the University of Arizona football team in 1914.) In fact, today, most people refer to it as A Mountain.
It wasn't always thus. Before it was called A Mountain, it was called Sentinel Peak  and had been named for the remains of a fortified Indian watchtower on its top. Before the Euro-Americans began calling it Sentinal peak, it had another name, Cuk Ṣon (pronounced Tshook-shawn) an O'odham phrase meaning "at the base of the black hill" – because the mountain, located on the west side of the Santa Cruz River, is a black volcanic formation. Over time, Cuk Ṣon became Too-sahn (but this likely explains the curious spelling, too).
How old is it?
There's a Wikipedia page called "Timeline of Tucson, Arizona". This is its initial entry:
1732 – Mission San Xavier del Bac founded by Jesuits near present-day Tucson
Archaeological evidence places the earliest Hohokam – likely ancestors of the Tohono O'odham – settlements in the area sometime circa 2,100 BCE making them among the first of the nomadic tribes to establish more permanent settlements.  Of course, the O'odham had no written language so it's perfectly reasonable (sarcasm implied) for us to ignore the 3,800 years of history between these initial settlements and the arrival of the Spanish in the 18th century. Sadly, I have little choice but to be complicit in this. (By the way, even the mission founding date is in question. I found other sources that date the mission to 1700.)
Some of the archaeological evidence that signals the shift from nomadic to a more settled agricultural lifestyle, is the development of ceramics and pottery and traces of vast irrigation canal systems by the Hohokam. There's no doubt they dwelled in the valley long before the Europeans arrived.
But even the Spanish presence in the area long predates the establishment of the Mission San Xavier del Bac. In 1539, Father Marcos de Niza claimed Arizona for Spain. A year later, during his search for the 7 cities of gold, Francisco Vasquez de Coronado did the same though neither put any settlement there.
The Mission San Xavier del Bac is a bit outside the current city limits an sits on the San Xavier Indian Reservation. Since it played an important role in the European colonization of the regions, and, because it required only a minimal detour, I stopped by to snap a few pictures on my way to the airport Monday morning.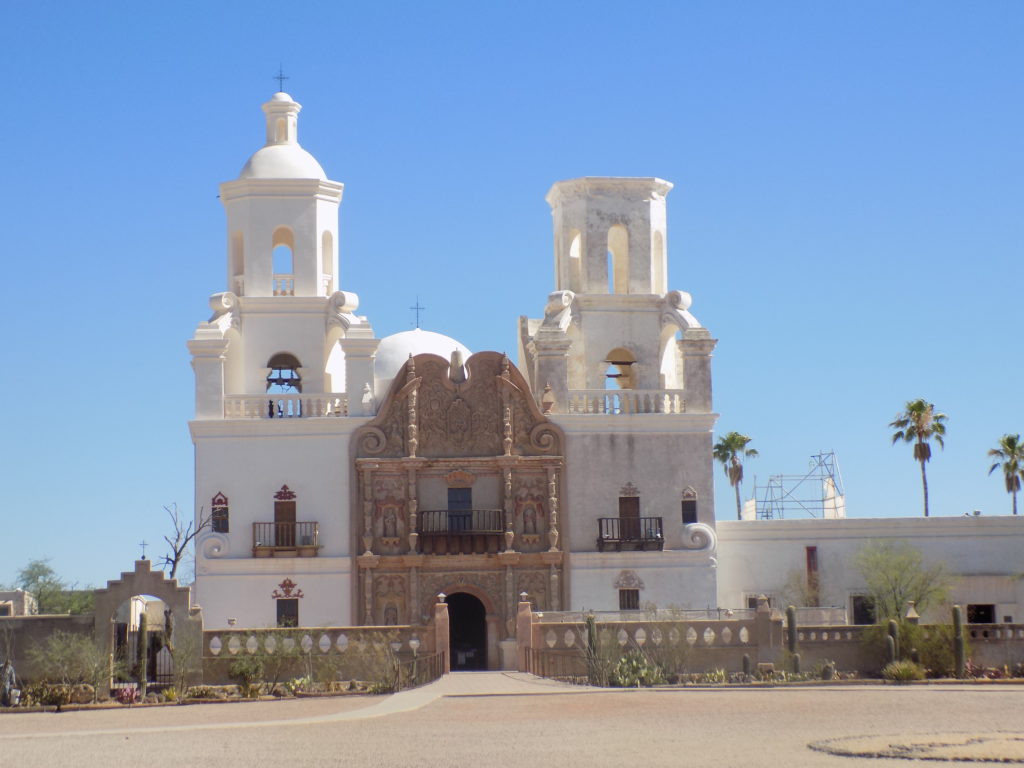 All I have is a few exterior pictures because I had neither the time nor the inclination to go inside.
Presiding over the Presidio
Some decades after the establishment of the original mission, a fellow who had adopted the name Hugo Oconor led a company of Spanish forces to the valley along the banks of the Santa Cruz River. Born in Dublin as Hugh O'Connor, he joined the volunteers of Aragon as a young man and rose to the title of major becoming Hugo Oconor in the process.
Oconor was a Spanish Military governor in Northern Mexico when he selected a site for the construction of a military fort, the Presidio San Augustίn del Tucsón, that overlooked the floodplain of the Santa Cruz. This Spanish son of Ireland authorized the Presidio's construction in 1775. It began a year later and was completed in 1783 and earned Oconor the distinction of being called Tuscon's founder.
In today's Tucson, El Presidio is on the national register as a historic district but, except for an archaeological excavation that revealed the foundation of the corner of the original Presidio, none of the original building remains. However, within the district, shown here,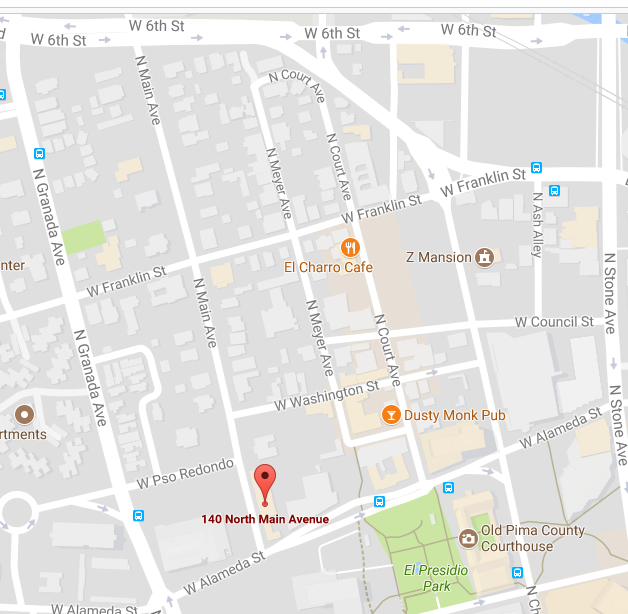 you can find the small El Presidio Park, the Old Pima County Courthouse, two museums including the Tucson Museum of Art as well as a reconstructed 20 foot tall adobe tower called a torreon. I walked the three-quarters of a mile from the Downtown Clifton Motel – where I'd spend the final night of the trip – to the courthouse but much of the area was hidden behind construction fencing and again, I didn't take any pictures. I expected none of these places to be open because it was Sunday evening so I didn't venture any farther into the neighborhood.
Red rocks at lunch
I mentioned above that as late as Sunday morning, I was considering going either to Four Corners, Antelope Canyon or Sedona. I'd read some mixed reviews about Four Corners so, although it is the only place in the U.S. where four states intersect, I scratched it from my list because it just didn't seem worth the hour or two it would add to the drive. That left me to choose between Antelope Canyon and Sedona.
The photos I'd seen of Antelope Canyon absolutely left me breathless. However, while it would only have added about an hour and a half to the drive, it would have also added at least another two hours to take the guided canyon tour. I think I would have needed to start very early and, for some reason, I simply couldn't muster the right level of enthusiasm.
That seems to lead to the conclusion that I opted for Sedona by default and while that's true in part, it's not the whole story. When I left the east coast for Arizona, I really didn't have much intention of visiting Sedona though I'd heard quite a bit about it because it seems that nearly everyone who visits Arizona includes Sedona. During the trip, however, so many people suggested visiting the town, that it grew ever more present in my mind. The trip from Blanding needed about five hours so I timed my departure to arrive at lunchtime.
Here's a little bit of information about Sedona:
The town was named for Sedona Arabella Miller Schnebly (1877–1950) who was the wife of Theodore Schnebly, the city's first postmaster. Sedona's mother, Amanda Miller, claimed to have made the name up because "it sounded pretty".
Perhaps Sedona's greatest claim to fame is its red rocks. These are part of a rock layer known as the Schnebly Hill Formation. This formation is a thick layer of red to orange-colored sandstone that's found only in this area. This sandstone, a member of the Supai Group, was deposited during the Permian Period.
I didn't seek out any movie locations during my visit there but I certainly could have. Sedona has played host to more than sixty Hollywood productions including Broken Arrow (the 1950 version with Jimmy Stewart), The Rounders with Glenn Ford and Henry Fonda and National Lampoon's Vacation.
I had to drive through much of the town before I reached the Javelina Cantina where I'd decided to have lunch. I was hoping for an outdoor table that would have given me a view something like this: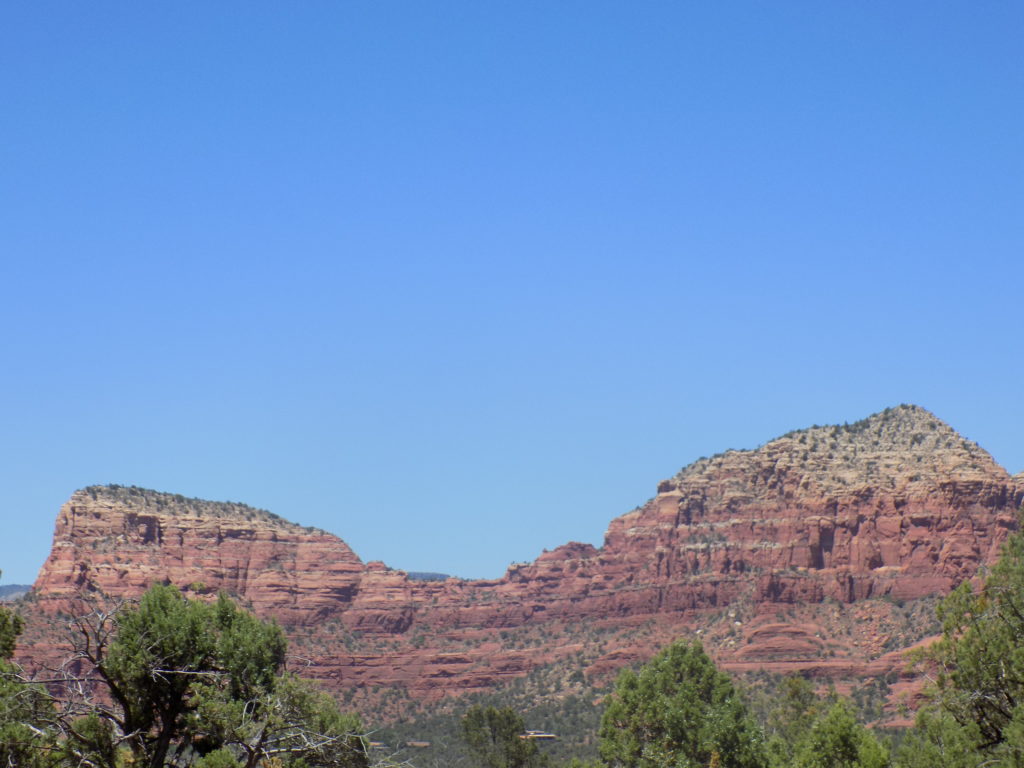 Unfortunately, the al fresco dining area was full so I stayed inside. I made a small mistake when I greeted my waiter in Spanish that sounded authentic enough to him that it became our language of interaction. The truth is, that while I retain some strengths – particularly phonetic – in Spanish, my ability to understand and communicate in that tongue has diminished significantly since my peak conversational usage nearly 40 years ago. He'd say something and most of the time I simply smiled and nodded politely. (And by the way, I am aware of the irony of having lunch at a place named for a javelina a.k.a. a skunk pig).
While I can certainly imagine someone traveling north from Phoenix being absolutely enthralled by Sedona, I was less impressed. Perhaps I had, indeed, become a bit jaded from having driven for nearly two weeks through scenery of comparable beauty. Or it could be that I needed to be in Sedona when the sun sets and the vivid red of the rocks for which the town is so famous is more intense. But I'd seen it, had my lunch and that was enough. On to Tucson.
The Tucson wrap-up
In the historical narrative I started before lunch, I'd reached the overlapping moment when Americans in the east were drafting a declaration and fighting a war of independence from England while in Tucson, Spaniards, under the leadership of Hugo Oconor had started construction on the Presidio marking the founding of the city as we know it today.
Let's jump ahead 50 years or so and note that in 1821 the territory became part of the state of Sonora after Mexico gained its independence from Spain. Then, in 1836, Texas won its war for independence from Mexico and President Andrew Jackson quickly established diplomatic relations with the fledgling republic.
This exacerbated the tension between the United States and its southern neighbor. The situation remained tense but static until April 1844 when President John Tyler concluded the Treaty of Annexation – a treaty the Senate initially failed to ratify. With the help of President-elect James Polk, Tyler pushed a joint resolution through both houses of Congress on March 1, 1845 and Texas was admitted to the union on December 29th of that year.
Mexico had threatened to declare war if the U.S. annexed Texas but because of weakness in its economy and a number of internal conflicts, it didn't follow through. Still, several months of border disputes followed and in July 1845, Polk began a two pronged effort – military and diplomatic – to settle those disputes. First, he sent Zachary Taylor and a 3,500 man army to hold the disputed land between the rivers Nueces and Rio Grande. Then, in November, he sent Louisiana Congressmen John Slidell to Mexico to negotiate the purchase of territory.
The negotiations failed and on May 13, 1846, the United States declared war on Mexico. By September 1846, Taylor had pushed the Mexican Army out of Texas and had captured the Mexican city of Monterrey. The fighting continued and in September 1847, the American Army captured Mexico City. That's when Nicholas Trist negotiated the Treaty of Guadalupe-Hidalgo. The treaty, signed in Mexico City on February 2, 1848, ended the American-Mexican War. The terms included Mexico ceding more than half a million square miles of territory for a payment of a bit more than $18 million. Despite substantial opposition from an expansionist Senate that wanted to keep the money, the body ratified the treaty on March 10, 1848.
I introduced you to the Mormon Battalion during my visit to the This is the Place Memorial. (This was the unit formed in June 1846 after the negotiations between President Polk and Jesse Little that's honored at the This is the Place Historical Park.) In their march to California, the battalion "captured" what had become the town of Tucson in December 1846. There was no real battle and the tired troops were more interested in trading for supplies than they were in fighting the Mexicans. They followed the red route on the map below  taken from californiapioneer.org.
In addition to what they acquired through trade, they confiscated about 30 bushels of wheat from some 1,500 stored in the town. When they continued their march westward to California, the inhabitants and Mexican forces simply strolled back into the city and Tucson again quickly fell under Mexican control where it would remain officially for eight years but, in actuality, for ten.
The Treaty of Guadalupe-Hidalgo didn't quite settle all the disputes between the U.S. and Mexico. For example, both countries claimed the Mesilla Valley (a significant stretch of land along the Rio Grande reaching from Laredo, TX to Las Cruces, NM). The Mexican government also made claims against the U.S. for attacks launched by Native American tribes which, in the treaty, the Americans had agreed to prevent. In an interesting inversion to the current situation, U.S.-Mexican tensions were also aggravated by the persistent efforts of American citizens illegally entering Mexico. In this case, the Americans weren't seeking jobs but were not so surreptitiously attempting to incite rebellions that would yield still more territory for the north.
In September 1853, hoping to settle the situation, President Franklin Pierce ordered his Minister to Mexico, James Gadsden to negotiate a purchase of land with General Santa Ana (who needed the money to fight rebellions in other parts of Mexico). The US and Mexico completed the Gadsden Purchase on June 8, 1854. The United States agreed to pay $10 million for a 29,670 square mile portion of Mexico that later became part of Arizona and New Mexico. In Arizona the purchased land was south of the Gila River (which runs E-W from just south of Phoenix to Yuma).
And still, not all the disputes were settled. According to the U.S. State Department's history website, "the treaty failed to resolve the issues surrounding financial claims and border attacks. However, it did create the southern border of the present-day United States, despite the beliefs of the vast majority of policymakers at the time who thought the United States would eventually expand further into Mexico." It wasn't until March 1856 that the American military took formal control of the Arizona territory.
This, of course left the territory vulnerable to the assault from John Baylor. Baylor, as you might recall from the history of the Battle of Picacho Pass (recounted here), had led a unit of Texas cavalry into the territory and declared the Confederate Arizona Territory with Tucson as its capital.
The web the Clifton spins
When I planned the trip I decided I wanted to have a different experience of Tucson on my last night than I'd had the first two so rather than returning to Carolyn's Air BnB room, I chose to stay at the Downtown Clifton Motel. I suspected I'd succeeded as soon as I pulled into the parking lot.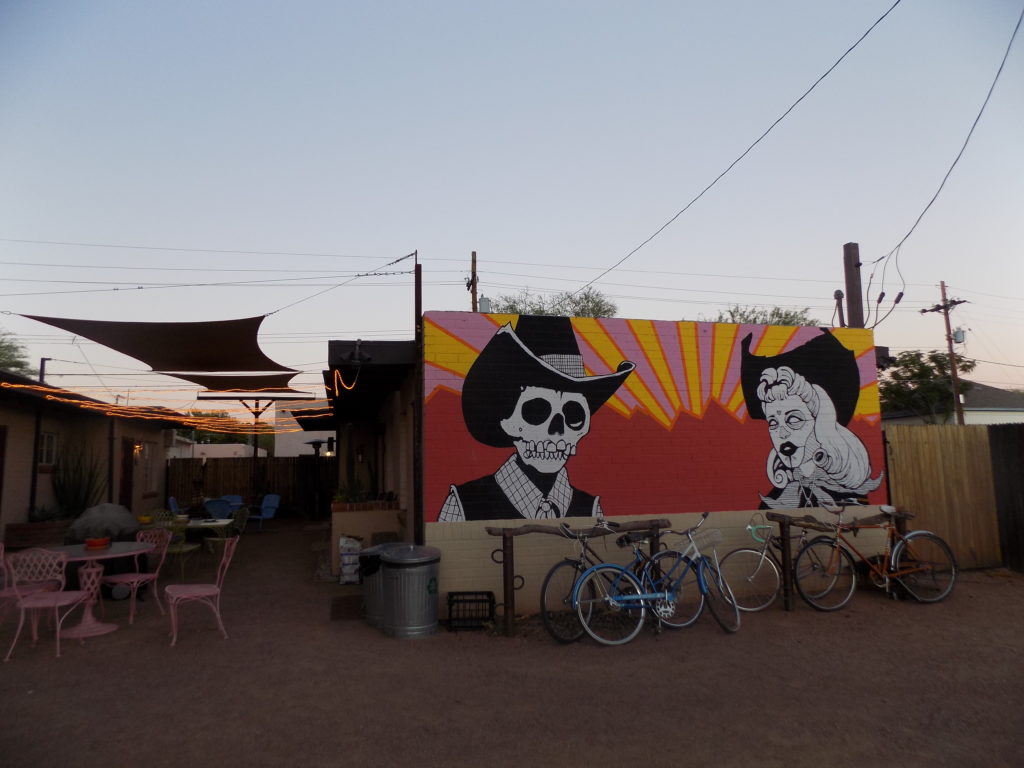 The hotel is in the Armory Park Historic Residential District and this photo not only encapsulates the spirit of the hotel but of the neighborhood. At least for now.
As I walked through it, the neighborhood felt to me somewhat like the Adams Morgan neighborhood in Washington, DC. Not today's Adams Morgan, though, but rather Adams Morgan as it was some decades ago. Walking around Armory Park in Tucson, I sensed a neighborhood on the cusp of gentrification. I fear it could be a very different place in five or ten years.
When I checked in, in addition to my room key, they handed me a card that, measuring 3 1/8″ by 6 1/8″, was only slightly larger than my mobile phone. Like the mural, gravel parking lot and the courtyard, this card also tells you a lot about the Downtown Clifton. I scanned it and reproduce it here because I think you need to read it yourselves (remember you can enlarge it by clicking on it).
The room is pretty basic and if you want, you can read my Trip Advisor review. As I mentioned in an early post, I thought Tucson quite pedestrian friendly and there are plenty of places you can walk to from this motel. For example, the El Presidio neighborhood is about three quarters of a mile and the Fourth Street district a bit more than half a mile. As for the Armory Park neighborhood itself, you can have a look at some eye catching parts of it (plus the last few pictures I took in Tucson) here.
When I returned my rental car, I'd driven an astounding 3,907 miles. I find this noteworthy because in the two years since I leased my Chevy Spark, I've driven it a total of about 9,300 miles or about 4,650 miles per year. Put another way, it means that in just more than two weeks, I'd done the equivalent of 10 months of the driving I do at home.
Although I had to sit through a nearly three hour delay for my connecting flight in Chicago and didn't get home until after midnight (so early Tuesday morning), there's little else to say about the final travel day. Zicomo was happy to see me and, while I was happy to see him, I think I was happier to fall into my own bed.